Solar power is a renewable energy source that can help you save electricity and reduce your reliance on non-renewable energy sources. Here are some sure ways for saving electricity using solar power:
1. Install Solar Panels:
The most obvious way to save electricity using solar power is to install solar panels on your roof or in your yard. Solar panels are made up of photovoltaic cells that convert sunlight into electricity, which can be used to power your home. Installing solar panels may require an initial investment, but it can save you money on your energy bills in the long run.
2. Use Energy-efficient Appliances:
Switching to energy-efficient appliances can also help you save electricity when using solar power. Look for appliances with the ENERGY STAR label, which indicates that they meet energy efficiency standards set by the U.S. Environmental Protection Agency.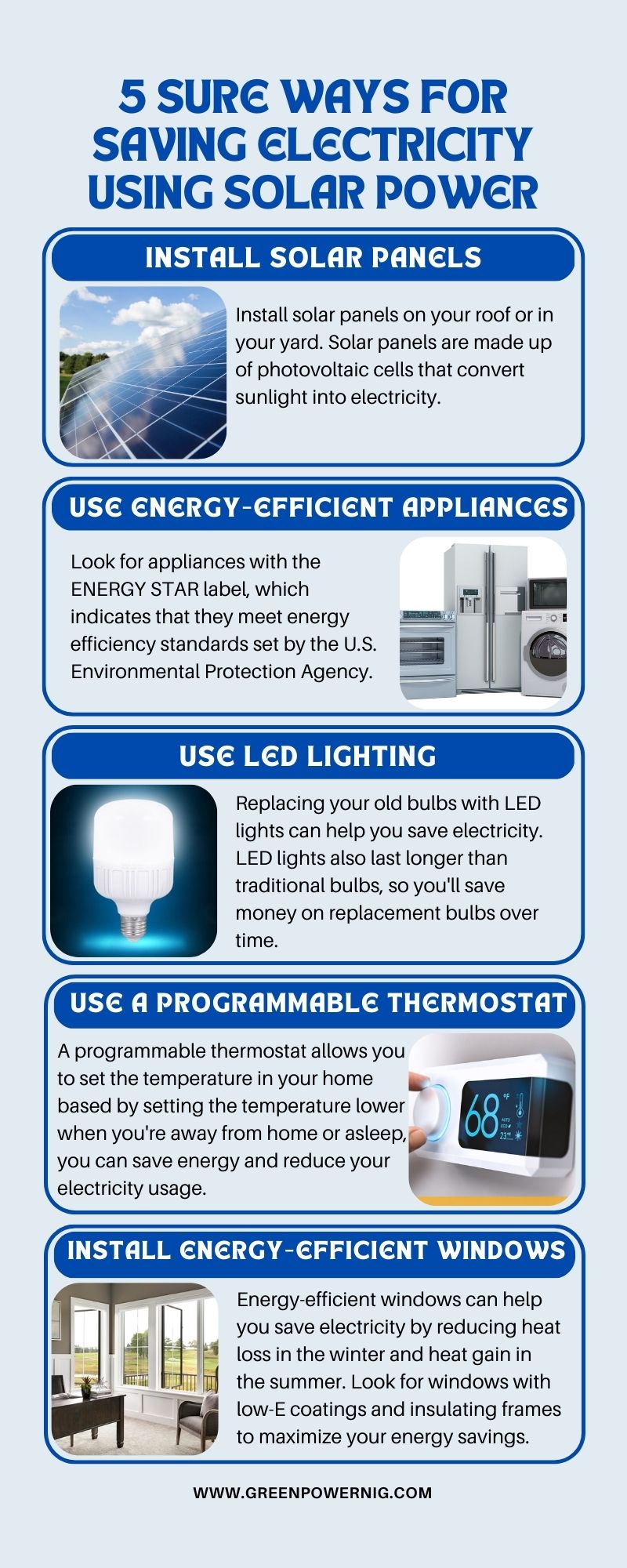 3. Use LED Lighting:
LED lighting is more energy-efficient than traditional incandescent bulbs, so replacing your old bulbs with LED lights can help you save electricity. LED lights also last longer than traditional bulbs, so you'll save money on replacement bulbs over time.
4. Use A Programmable Thermostat:
A programmable thermostat allows you to set the temperature in your home based on your schedule. By setting the temperature lower when you're away from home or asleep, you can save energy and reduce your electricity usage.
5. Install Energy-efficient Windows:
Energy-efficient windows can help you save electricity by reducing heat loss in the winter and heat gain in the summer. Look for windows with low-E coatings and insulating frames to maximize your energy savings.
Overall, using solar power can help you save electricity and reduce your environmental impact. By making a few changes to your home and lifestyle, you can maximize your energy savings and enjoy the benefits of renewable energy.